Learning Centre New Westminster
9:30am - 5:30pm
New Westminster Library
8:00am - 9:00pm
Coquitlam Library
8:00am - 9:00pm
Learning Centre Coquitlam
9:30am - 5:30pm
Item request has been placed!
×
Item request cannot be made.
×
Processing Request
Learning Centre Workshops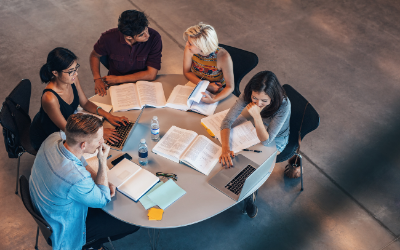 Workshops focus on academic strategies you need to be successful in your courses and in learning online. They are led by Learning Centre instructors, English Language tutors and peer tutors. The Tutor Tips! workshops feature panels of peer tutors sharing their own strategies. English Language workshops provide practical information and tips for improving your English reading, writing, speaking, and listening in the Douglas College courses you're taking.
F21 Academic Integrity Week Events
Academic Integrity Workshops take place every day at 3:30 PM, from Tuesday October 12 to Friday October 15.

Register now
| Date | Topics |
| --- | --- |
| October 12 | Reports, Essays, and Term Papers: Why "Copy/Paste" Will Hurt You |
| October 13 | Avoiding Plagiarism: Learning to Paraphrase |
| October 14 | Academic Integrity When There Is a Correct Answer    |
| October 15 | Academic Integrity Resources from Douglas College (co-facilitated by the Learning Centre and Library) |
English Language Learning Tuesday
English Language Learning Workshps take place every Tuesday at 3:30PM from September 14 - November 16

Register now
| Date | Topics |
| --- | --- |
| September 14 | Improving English Speaking and Listening Skills |
| September 21 | "A/An/The" – Editing your Writing for Articles.    |
| September 28 | The Many Faces of Verbs (Verb Form and Verb Function)     |
| October 5 | When Grammar Rules Don't Apply: Words that Go Together in English.   |
| October 12 | Reports, Essays, and Term Papers: Why "Copy/Paste" Will Hurt You   |
| October 19 | Fixing Common Noun Errors (Subject/Verb Agreement)    |
| October 26 | Common Sentence Structure Errors    |
| November 2 | Present Perfect Verbs: When to Use, When Not to Use  |
| November 9 | Effective Use of Online Tools for English Editing  |
| November 16 | BYOG (bring your own grammar questions) Bring your own question and we'll find answers together.  |
Study Skills Workshop Wednesday
Study Skills Workshops take place every Wednesday at 3:30PM from September 15 - November 17
| Date | Topics |
| --- | --- |
| September 15 | Taking Notes in Class |
| September 22 | Tutor Tips: These Are the Secrets to my Academic Success |
| September 29 | Tutor Tips: This Is How I Communicate with my Instructors     |
| October 6 | Tutor Tips: This Is how I Survive Group Projects |
| October 13 | Learning to Paraphrase |
| October 20 | Finding Sources for Papers: Effective Research Strategies and Tips   |
| October 27 | Getting the Thesis Statement Right  |
| November 3 | Dealing with Stress   |
| November 10 | Tutor Tips: This Is How I Stay Motivated |
| November 17 | Motivation and Growth Mindset |