Learning Centre New Westminster
9:30am - 7:00pm
Learning Centre Coquitlam
9:30am - 5:30pm
New Westminster Library
8:00am - 9:00pm
Coquitlam Library
8:00am - 9:00pm
Celebrating Asian Heritage Month
Item request has been placed!
×
Item request cannot be made.
×
Processing Request
Asian Heritage Month is celebrated each May in recognition of the achievements, histories, and experiences of Asian Canadians. It is also an opportunity to address Canada's legacy of anti-Asian racism, both historical and ongoing.
Book Displays at the Library
Stop by the Asian Heritage Month book displays at both campus libraries. These displays will be up for the month of May.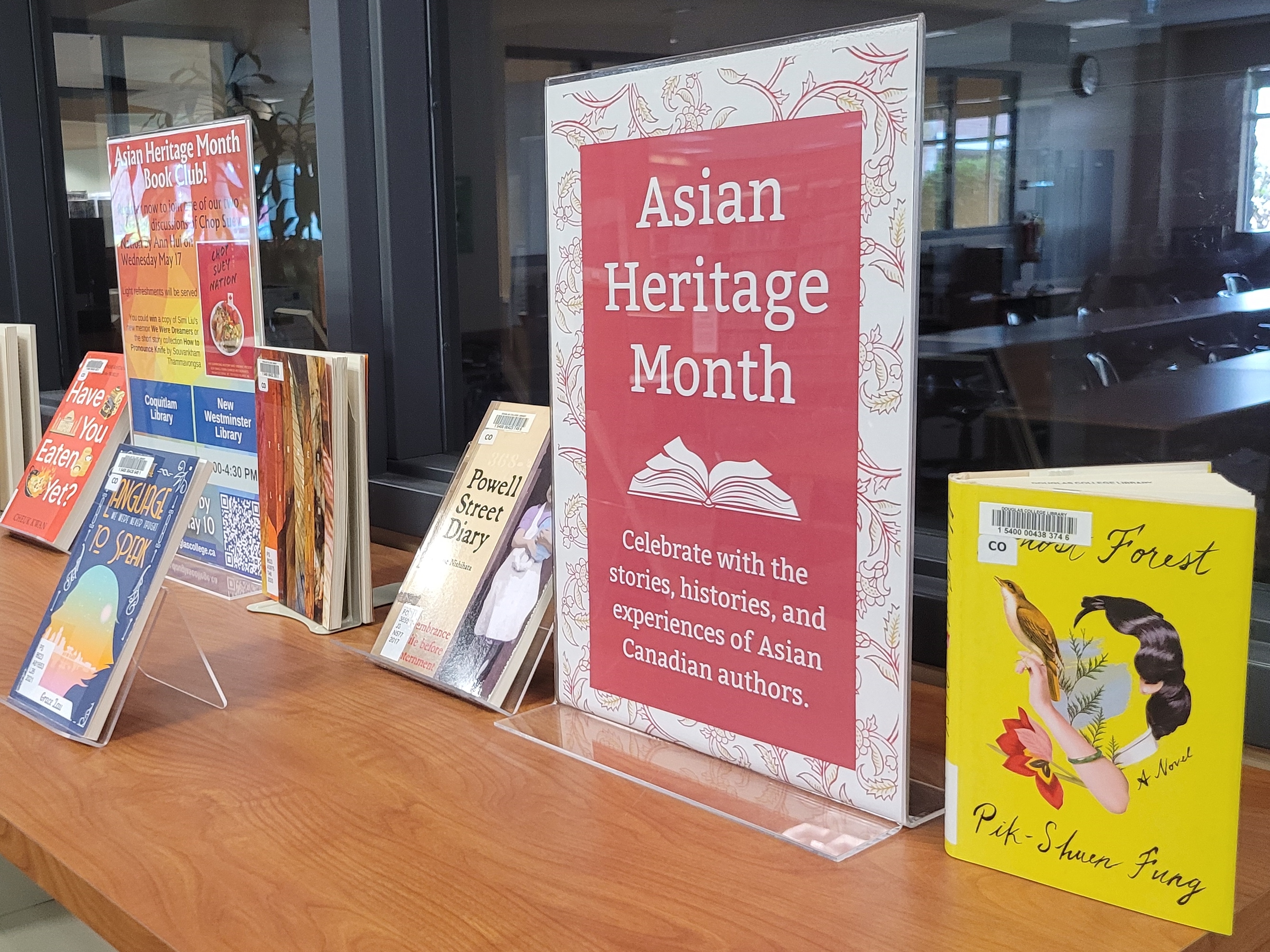 Book display at the Coquitlam campus Library (upper floor)
Book Club: Asian Heritage Month
Those who have not read or completed the book are welcome to attend and participate in the discussion!
Learn more about these upcoming events in Coquitlam and New Westminster.
Streaming Videos
National Film Board: Asian Communities in Canada: A curated selection of films that celebrate the many achievements and contributions of Canadians of Asian descent who, throughout history, have done so much to make Canada the culturally diverse, compassionate and prosperous nation it is today.
Behind the Bhangra Boys: This is a joyous and poignant glimpse into the lives of the viral sensations, The Maritime Bhangra Group — five Sikh dancers and activists who are trying to make the world a better place, one dance at a time.
Hockey Mom: Fatma and her son Majed fled Syria for the safety of Toronto, but their troubles are far from over. Hockey Mom looks at what happens after "year one" ends.
In the Shadow of the Pines: This animated short documentary depicts a difficult father-daughter relationship. Drawing on childhood memories, Anne Koizumi, the filmmaker, explores her upbringing with her Japanese immigrant dad, who was also the janitor at the elementary school she attended.
Ketchup & Soya Sauce: A documentary exploring the nuances of mixed Chinese-Canadian marriages in Quebec, in light of their historical taboo and criminalization in this country.
LEVI: Becoming Himself: Identical Vietnamese twins, assigned as female at birth, were adopted to white Canadians. As one begins to navigate their gender identity, this family in North Vancouver, B.C. pulls together to support Levi becoming himself.
Mother Tongues: The Journey of Tam Goossen: Through the lens of her life story, Toronto activist and educator Tam Goossen speaks to the challenges and triumphs of Chinese-Canadian communities.
Ru-tsu: Ru-Tsu follows snowboarder Tamo Campos on an educational journey to learn about his Japanese ancestry and his activist roots. Through reflections with his grandfather, award-winning scientist, environmentalist and broadcaster David Suzuki, this personal film dives into themes of intergenerational trauma, passionate activism, and a family's deep love of nature.
Sing Me a Lullaby: In 1965, Tiffany's mother was separated from her parents. She never saw them again. 40 years later, Tiffany flies to Taiwan to try and find her grandparents – with just two names scribbled on a napkin.
What Flowers They Bloom: This documentary takes an intimate look at Asian Canadian small business owner Andy Sue as he explores the psychological trauma of a first-hand encounter with anti-Asian racism during the pandemic. The film examines the social and public health implications of our digital media reality, where social media algorithms detect bias to translate fear, blame and outrage into profit.
Asian Heritage Month E-Books
Asian Heritage Month Fiction & Poetry
Asian Heritage Month Non-Fiction & Memoir